Breaking: AdWords Editor 11 Announced!
Today during a livestream Google have announced Google AdWords Editor version 11! This is the biggest update to the software since it was launched all the way back in 2006, so get ready to explore.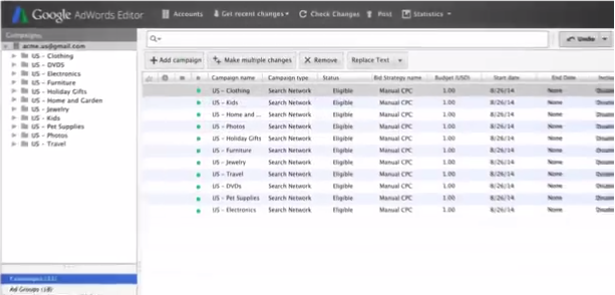 The entire application has been redesigned from the ground up – For us the best part is the brand new visual design and the speed improvements:
Three of the features that Google took the time to talk about are as follows:
1. Manage Accounts & Items Side by Side
One of the hassles that we've found with AdWords over the years is the inability to look at data side by side. In other words, perhaps you want to look at a keyword list against your adverts to check that relevant terms have been selected, with AdWords at the moment you'll be doing a lot of clicking to and fro between the two areas in question, AdWords Editor 11 solves this by allowing you to open up multiple windows.
2. Less Clicking, More Answers
Another useful feature is that of a new panel that allows for selecting type lists. Want to quickly see Negative Keywords? Simply click there, want to see Placements? Simply click there. Get to what you're looking for quicker than ever! You'll also enjoy a new advanced search bar and keyboard shortcuts.
3. More Bulk Actions
A good reason for using AdWords Editor is the ability to perform bulk actions without the hassles of the web interface. This has definitely allowed us to optimise our campaigns. The good news is that you'll now be able to perform even more bulk actions.
4. Undo / Redo
The quick and easy undo and redo is such a fantastic offering as you can see in the video above – this is going to make for great management and less mistakes 😉
AdWords Editor 11 is available for Windows and Mac, so go on and upgrade!