Social Media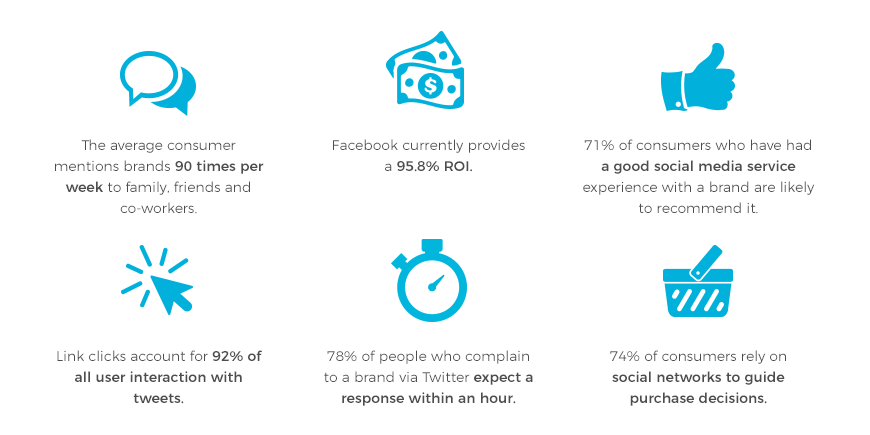 Wondering Why Social Media is Important?

With millions of people using social networks such as Twitter, Facebook, Google+, YouTube and LinkedIn on a daily basis, social media marketing has quickly become a non-negotiable aspect of a company's marketing budget. People engage with companies and brands constantly on social networks and as a company you need to be part of that conversation. Not only does it allow you to engage with your audience and drive sales leads, but it also plays an important role in Search Engine Optimisation.
The beauty of social media is that it is inherently social. If you play your cards right, your followers will engage with your content by liking, commenting and sharing. This engagement starts to build a relationship between your brand and your customer and indirectly endorses your brand, filtering the good word of mouth through to your customer's friends and followers. Need proof? 93% of buying decisions are influenced by social media.
Having said all this, social media marketing is a practice that takes a clear strategy and some practical know-how. Think it's easy to create a Facebook Page or Twitter account and jump straight into creating content and posting it? Communicating the right message in a language that is familiar to your target markets, and making this content visible to your potential customers, is all based on a well-researched strategy and social media prowess.
iMod Digital, in collaboration with their social media partners, offer experienced and up-to-date insight into how to manage a social media account and even offers to effectively run your social media accounts for you. Because social media is an ever-evolving sphere of marketing and the rules of engagement are forever changing, we pride ourselves in staying abreast on these changes so that we might boast some of the best engagement rates on the pages we manage in the country.
Ready to launch your brand or company into the digital sphere? Contact us to find out how we can assist you in creating a powerful social media strategy and presence.
References:
https://www.youtube.com/watch?v=PWa8-43kE-Q
http://www.inc.com/cheryl-snapp-conner/think-your-social-medias-ready-for-2017-read-this-first.html
https://skilled.co/resources/social-media-facts-infographic/
http://www.socialmediatoday.com/social-business/30-social-media-marketing-stats-2017-infographic
http://www.haveyouheard.co.za/services/word-of-mouth-tactics/social-media/
http://www.adweek.com/digital/business-social-media/
https://www.dreamgrow.com/21-social-media-marketing-statistics/