eCommerce Africa 2016 Wrap Up
Last week Wednesday and Thursday saw the latest installment in the annual eCommerce related conference called eCommerce Africa take place. The two day event was jam packed with speaker line ups that forced anyone in eCommerce, digital or even traditional big business in South Africa to sit up and take notice. No seriously, take a look at the list.
The Speakers
With big players from PayPal, Zando, FNB, Spree, Pricecheck, Gumtree, Pick N Pay, Netflorist, Estee Lauder & Uber, there was an array of talent on show that very rarely is accessible to the masses and the small time players within the eCommerce market.
The beauty of the eCommerce Africa conference is the fact that for two days players from all sizes of companies with varying degress of experience and success could come together to discuss challenges that they face and how their companies have solved said issues. It was fascinating to hear how companies from different locations around the world handled different issues and how they adapted solutions to their market place.
The advisory panels were a favourite of mine as having four or five highly respected players in the online space discussing a single topic meant that there were true substance to the discussions and real, valuable insight was gained.
The Expo
An interesting aspect about the eCommerce Africa conference is the fact that it is not only two days of talks, but there was also an expo floor where companies could showcase their talents, ideas & solutions to problems that all eCommerce players and businesses face every single day. The expo pass was free so you could run through the expo and be exposed to numerous solutions to your problems that you thought were once unsolvable. There were impressive stands from the likes of Payfast, PayPal, Parcel Ninja & even some sneaky free beer from The League Of Beers.
Organisation
The biggest gripe that normally strikes me at an event of this size, is the fact that they normally descend into chaos within the first few minutes due to a lack of planning and insufficient resources. I am making special mention to the event co-ordinators Kinetic Events due to the fact that I actually went out of my way to find out who organized the event so that I could give credit where credit is due. The speed at which attendee's were being process was an absolute marvel to behold. I was registered before I even knew it, and actually had an awkward few seconds where I was waiting for them to finish processing my registration, believing that there had to be something else, when in fact, everything was already taken care of!
Another point that astounded me about how well this event was run, was the fact that every single talk started on time. There was no running late by a casual 10 or 15 minutes which is easily the norm in sleepy Cape Town. No, if the schedule said 10:00am, the talk started at 10:00am. Unfortunately, the good people of Cape Town would still be streaming through late after a break or lunch etc.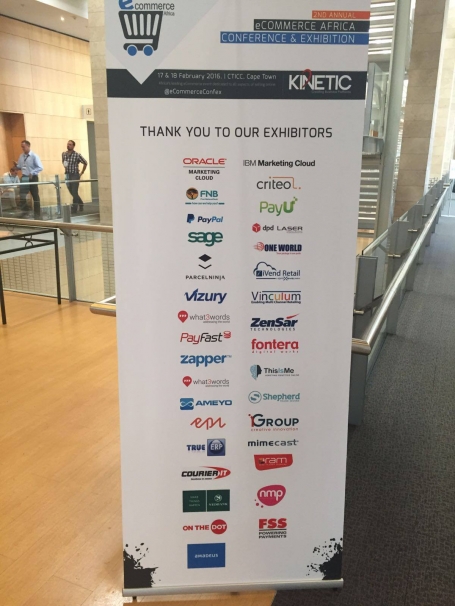 Overview
All in all, this conference covered it all. If you were a new player looking to venture into the challenging world of eCommerce, there was plenty for you to learn from both the expo as well as the speakers. Better yet, and what impressed me, was that even if you have been in the eCommerce game for a long time, you could still gleam an absolute truck-load of information and different approaches to your same problems.
Overall, very impressive, albeit a slightly more expensive conference compared to the norm, but when you take in the full two days and everything that the brilliantly organized conference has to offer, then it becomes a no-brainer.