L'Oréal Set to Release a Skin Patch That Detects Sun Exposure
Everyone knows that you shouldn't spend hours upon hours in the sun everyday as it can result to serious skin damage and can even cause skin cancer. That is why L'Oréal have decided to unveil a new wearable technology that detects and lets you know your skins exposure to UV.
'My UV patch' is a smart patch, it is a super thin piece of stretchable material, similar to that of a fake tattoo that will last up to 5 days even when sunscreen is applied over it. Once placed upon the skin a photosensitive dye will detect the UV exposure to that particular area of skin and will change colours based on your level of UV exposure.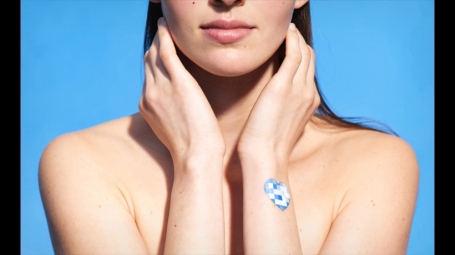 Not only does the heart on the patch change colour but it is also connected to a smartphone app that will allow you to read the UV rating by taking a photo (iOS) within the app and by NFC (Android not currently available). The application will then tell you in graph form about how much sun you have been exposed to throughout the day. It will also provide you with useful lifestyle tips and habits to help you better understand your UV exposure and to correct your behaviour.
Check out the demo from CES 2016 below.
Guive Balooch, global vice president of L'Oréal's Technology Incubator said "We give you information about your behaviour and the idea is that this information will help you take preventative measures in the future."
"Previous technologies could only tell users the amount of potential sun exposure they were receiving per hour while wearing a rigid, non-stretchable device. The key was to design a sensor that was thin, comfortable and virtually weightless so people would actually want to wear it. We're excited to be the first beauty company entering the stretchable electronics field and to explore the many potential applications for this technology within our industry and beyond." said Balooch
The patch which is going to be free, will be launched later this year. With the way the sun is hitting us at the moment I sincerely hope that they decide to release it in South Africa.