Ford Encourages People Not To Use Phone Whilst Driving
Over the last month Ford have created two separate and unique campaigns that aim to encourage drivers not to us their cell phones. The two clever adverts play on the classic 'don't text and drive' campaign.
This isn't the first time Ford have played on the classic 'Don't text and Drive' because during June of this year they launched their 'Lifein1Second' campaign which focused on how one second could change your life for ever, especially if it were a second of distraction whilst driving. The campaign was published on Instagram, it was a video with a scroll of a second that showed the latest 24 photos published on Instagram. Check out the case study for this below.
Ford took to Instagram again in one of their more recent campaign's called 'Don't like and drive'. The campaign was made up of a series of photos with images of children, pedestrians and pets crossing the road. Placed on top of the subject of the photo was a heart icon just like the one you get when you like an Instagram photo. The message was clear, if you liked someone's photo whilst you were driving you were affecting your visibility and thus potentially compromising a person's life. All of the photographs were taken from the driver's point of view and perfectly deliver the message across.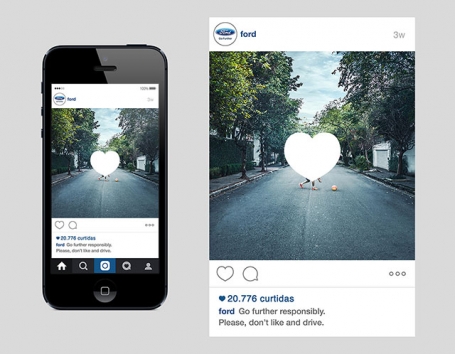 Ford also went on to create the first ever advert made entirely out of emoji's as part of their 'Don't emoji and drive' campaign. Each ad was made up of thousands of emoji's that were pieced together to form a collage. Each collage is of the different people that are endangered when you use your phone whilst driving. Check out the advert below.
The next phase of the 'Don't emoji and drive' campaign took place at Games Week in Milan, where attendants had the chance to get their own picture transformed into a picture made entirely out of emoji's. These pictures were then displayed on big screens at the event and shared across various social media plans.
Emoji's really are taking the Marketing world by storm with campaigns such as the Turkish airline's emoji only URL and Domino's pizza ordering emoji having been done over the last year. We can't wait to see what is next in store for emoji's.