KitKat Creates The World's First Massage Billboard
In order to launch KitKat in Colombia, KitKat created the first ever billboard that gives out free massages. The billboard was launched in over 20 different locations in Bogota, the busiest and biggest capital city in Colombia. The billboards aimed to help people relax and destress by encouraging them to "have a break" and get a free mini massage. All you had to do was lean up against the billboard to receive your massage. When the board is leaned against a small motor hidden inside the billboard is activated and comforting vibrations are given to the upper and lower back.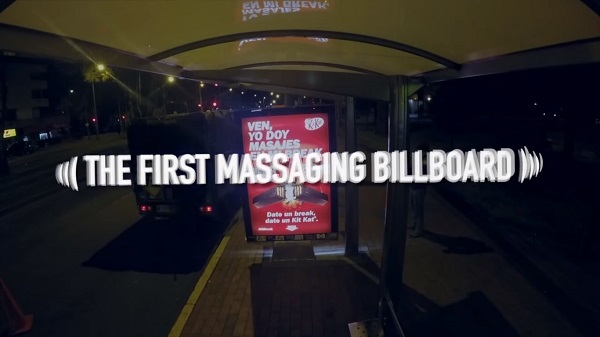 All of the billboards were geo-located on Google Maps in order to help people who were in need of a quick massage to find the billboards easily. In order to find one on Google Maps all you needed to do was search Google Maps or type words like "stressed" or "tired" in Twitter and the bus stop billboard nearest to you will pop up. Check out the video below to see for yourself.
A channel on Facebook and Twitter was also created to help generate conversations about the experience. More traditional forms of marketing such as radio were also used to encourage conversations about people's first-hand experience with the massaging billboard.
How nice would it be to receive a free massage every morning on your way to work but unfortunately for us KitKat do not plan on going global with this campaign.