Australian Fast Food Company Uses A Chicken To Run Its Twitter Account
Chicken Treat in Australia is attempting to break the Guinness World Record for the first ever 5 letter Word Tweeted by a chicken. Betty, the chicken, will literally be running Chicken Treats Twitter account until she tweets a 5 letter the word. Whilst we have seen companies like the Johannesburg Zoo, who let a honey Badger live tweet by rigging its zoo enclosure with motion sensors, use animals to Tweet before we have never actually seen a company brave enough to actually let the animal do the tweeting itself.
Betty who has been tweeting since October 7th has so far left only gibberish across Chicken Treats social account. In order to help Betty accomplish her dream of becoming the first ever chicken to Tweet a 5 letter word, Chicken Treat have supplied her with a computer and keyboard in her coop. The devices are taken away every night so that she can get some rest after her day of labour. Betty has come close to her World Record when she typed out the word bum last Thursday.
"Bum"? Keep things clean, Betty. pic.twitter.com/qwLAwmQwKr

— Chicken Treat (@ChickenTreat) October 15, 2015
Luckily Chicken Treat came to the realisation that they couldn't only have nonsense coming from their Twitter account and have created a series of supporting content such as images and videos to help increase engagement. All Betty's tweets are marked out by #chickentweet.
//.uhg86y 7iu ./;lii========= 67 nm/ aw / #chickentweet

— Chicken Treat (@ChickenTreat) October 15, 2015
If you are wanting to find out how they managed to train Betty to tweet watch the humorous video below.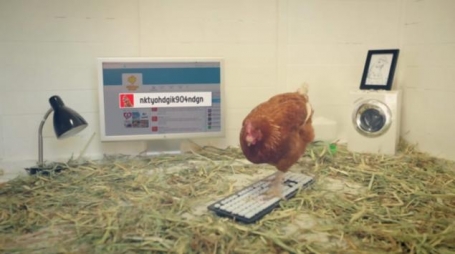 We are eagerly awaiting for Betty to reach her goal.