Cape Town's Powerful Campaign That Shows How Small Change Keeps People On the Street
In a recent statement made by the city of Cape Town they said that they receive numerous complaints from residents and tourists on a daily basis about the aggressive begging and sheer number of people on the streets. That is why they have decided to launch the Give responsibly campaign. The campaign aims to encourage people to give their money to organisations working with homeless people rather that give donations directly to the homeless.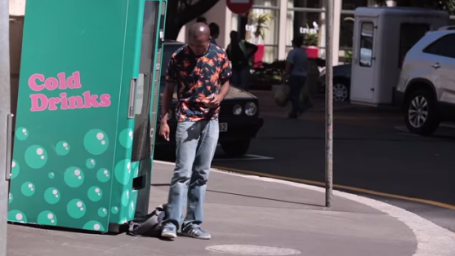 'On the streets, our residents not only live in difficult conditions but are vulnerable to anti-social behaviour and substance abuse. Unfortunately, it is often the case that the misdirected kindness of residents keeps them on the streets in a pattern of dependency. Children are a particularly vulnerable group: we've seen first-hand that giving hand-outs discourages them from going to school,' says Councillor Suzette Little the City's Mayoral Committee Member for Social Development and Early Childhood Development.
In order to help show people how easy it is to remain on the streets for longer than intended, they created "The Change Project".
In the video above you will see small change randomly falling out of a 'faulty' vending machine. You will see that some of the passers-by choose to hang around to see if more change comes out and one guy even puts down his back pack and waits beside the machine. The video shows how by giving money to people directly on the street you are encouraging them to hang around and are thus fuelling the homeless dilemma.
Councillor Little then goes on to say that "We've seen that Capetonians have very big hearts are always ready to assist street people, especially during the colder months. As a caring city, we want to make sure that their contributions serve to assist recipients not just for a day or two, but in the long-term as well."
She says that givers "can make a far greater impact by supporting the organisations that assist street people in finding job opportunities, reunite them with their families, and ultimately give them a second chance".
If you would like to find out how you can donate to organisations that assist street people then use the toll free number on 0800 872 201 or SMS 'Give' to 38802 to donate R10.