The Billboard in Peru That Grows Lettuces
FCB Mayo and UTEC attracted a lot of attention in 2013 and 2014 for their creation of an Air and a Water purifying billboard. This year was no different, as they set to tackle the idea of creating a sustainable and healthy way of growing vegetables in a country where the polluted water is causing contamination of the majority of vegetables that people are eating. This bought about the creation of Air Orchid. The project aims to demonstrate that pollution-free food can be grown and behaviour can be changed through innovative engineering.
Air Orchid is a hydroponic lettuce farm that uses water generated from a billboard. The billboard extracts water from the air where it is then dehumidified and filtered. Once filtered the water is then transported through nutrient lined PVC pipes to feed the lettuce. Hydroponic farming generates five times more nutrients and sunlight than soil based farming, while optimizing production of quality and space.
Each week roughly 2400 heads of lettuce are grown and then given to the locals and passers-by  for free.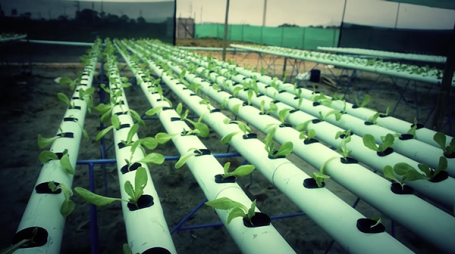 Jessica Ruas, UTEC marketing director said "Currently, organic products are gaining significance, compared to chemically treated products. UTEC wanted to work out the most efficient way to grow a crop of 2,000 heads of lettuce using the clean water generated by the panel. In addition to growing lettuce, the billboard still produces 96 liters of drinking water a day to provide for the surrounding community."
This unconventional way of sustainable farming allows the world to see that advertising campaigns can be used to not only grab at your attention but to also directly improve the lives of the people in the community.