KFC Offers Free Food In Their "Don't Panic Man" Campaign
Social media has become a life blood to depend on for many people, they can't seem to live without spending an hour away from their "connection" to their friends in the online world. So many people tend to fall into an utter sense of panic the minute a social media platform goes down. That is why KFC decided to launch the "Don't Panic Man" campaign. The campaign will reward everyone who comes into the store when social media is down with a free meal. The promotion starts whenever a site goes down and ends whenever the site goes back online.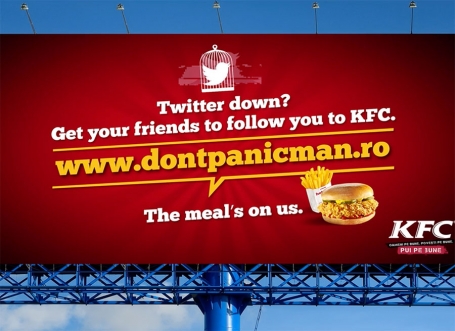 Nir Refuah, general manager of MRM Worldwide Romania, the Bucharest branch of the McCann Erickson-owned agency said "Once an online service crashes, a big button appears and invites users to receive a digital coupon for one free meal to their phone, the communication platform in Romania is named, 'Don't panic, man.' We figured that the most panic-causing event to our target audience is the lack of online connection."
The advert itself is pretty hilarious and ironically makes fun of the fact that when a social media site crashes it is a "huge disaster" Watch the video to check out how KFC cheekily mocks the way we are all so attached to our social media platforms.