Coke Zero Creates First Ever Drinkable Ad Campaign
In March this year Coca Cola Zero created the first ever drinkable advertising campaign called "You Don't Know Zero 'Til You've Tried it." The campaign was bought about after research showed that many people who claim not to like Coke Zero, have never even tasted it. The campaign which launched in March during the NCAA Men's Final Four bought Coca Cola Zero to life through a print, broadcast and retail medium.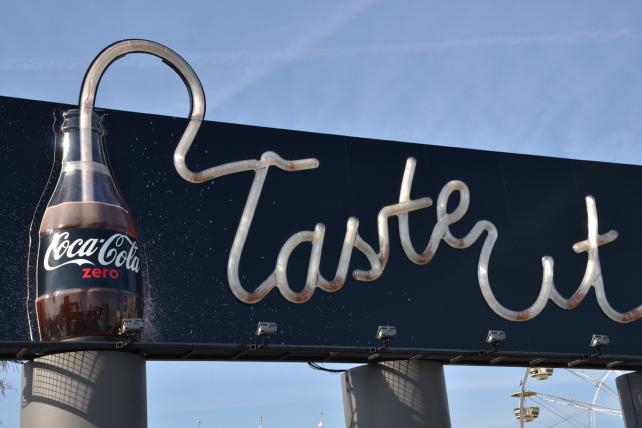 The best and most literal part of the campaign was the 23,000-pound, 26-by-36 foot drinkable billboard that was located at the March Madness music Festival in Indianapolis. The billboard was set up so that the Coke flowed through a straw to the bottom of the billboard, where a sampling area was set up with six fountains so that people could taste Coke Zero.
A few of the other elements of Coke Zeros Drinkable Campaign included:
Drinkable Stadium HD Video Boards that played video content live in the stadium. The Video Board offered viewers a chance to receive a coupon for a free Coke Zero on their mobile.
Drinkable Challenge at Coke Zero Countdown Concert which asked opposing fans from the final four teams to compete to see who can finish their bottle of Coke first, competitors had to use the microphone in their smartphone as a straw in order to complete this task. The winner of the competition earned their teams fans a Coke Zero.
Drinkable Flyers. Flyers that became an innovative straw for drinking your Coke Zero at an event. The flyers also featured a coupon for a Coke Zero.
Their most recent addition to the campaign is "College Game Day" which sees Coke Zero partnering with ESPN. The campaign includes a TV advert that prompts viewers to use Shazam during the advert. Once Shazam has been used viewers will see a Coke Zero that is being poured on TV getting poured into the glass on their phone. Once the advert is finished viewers will then be delivered a coupon for a Coke Zero. The revival of the campaign will also see the release of "Drinkable Jerseys" that will be given to students on game day. Fans who Shazam a logo on the jersey will get a coupon for a free bottle.