Target Partners With Lucasfilm to Collect Star Wars Fan Memories
Star Wars has been passed down from generation to generation since 1977 and therefore it is of no surprise that it has roughly 147 million fans worldwide. The release of the new movie, Star Wars: The Force Awakens, in December has caused a surge of hype within the Star Wars community, with new trailers, TV commercials, as well as plot and set leaks emerging on a nearly-daily basis.
If you though it was bad now just wait for Force Friday, where at midnight on September 4th a mass unveiling of merchandise for the new movie will take place. Target are set to open 207 stores at midnight for this mass unveiling. In addition to Force Friday, Target has created Share The Force.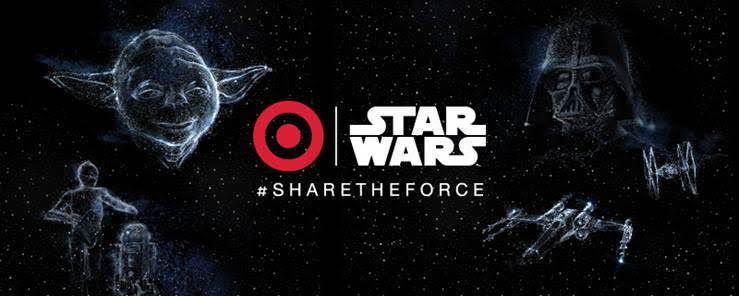 Share The Force is an interactive website that is dedicated to the collection of memories from Star Wars lovers all over the world. All memories will be stored in vast 3D virtual environments or "galaxies" that anyone can navigate around. Each "galaxy" will be named after Star Wars characters such as the Boba Fett galaxy, the Han Solo galaxy and even the Darth Vader galaxy.
Memories can be submitted in the form of photo or video and can be uploaded to the site via Facebook or Instagram. Once a memory has been uploaded the user will receive a unique set of "galactic" coordinates that tells them where their memory is housed. Celebrities such as Minka Kelly, Chris Hardwick, and Bobby Moynihan have submitted memories of their own already.
Rick Gomez, Senior VP of Marketing at Target said "We know the world is waiting for the theatrical release of the new Star Wars film and we wanted to find a way to start the conversation through shared memories of the epic movie franchise. We are excited to see how the interactive and sharable nature of the digital memory collection grows and expands in the months to come."