Yoast SEO Plugin for WordPress gets an update
It's an exciting day today because the most popular WordPress plugin for Search Engine Optimisation (SEO) has been updated and it's a major release.  With over 1 million active installs of the plugin, you can imagine just how many people are frantically upgrading to make use of these new features. We're going to walk you through the three major feature releases. Apart from these, you'll also notice that the plugin is now called Yoast SEO and no longer WordPress SEO by Yoast.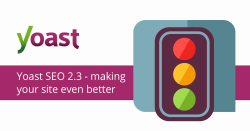 1. Google Search Console Integration.
By now you'll have noticed that Google Webmaster Tools are now known as Google Search Console. A feature which used to be only part of the premium version of the plugin has now been updated to work in the free version. With this recent change from Google, the plugin is now further integrated with Google Search Console and it's worth looking at what's available.
2. Optimise Blog Posts Further.
The plugin now shows you a list of all your posts that have been published and ranks them in order of their success in terms of SEO. Of course, this isn't bullet proof but it's a really great way to spot some areas that you could enhance and further optimise.
3. Breadcrumbs in the Customizer.
For themes that support the plugin's breadcrumb features, you'll be pleased to know that a panel will be added to the Customizer so that you can customise them.
Apart from these three major updates, there are a ton of smaller fixes and you really do need to upgrade and click around to understand the full extent of Yoast SEO 2.3.
Let us know what you like the most!