Turkish Airlines Launches First Ever Live Streamed Flight
Turkish Airlines has recently jumped on board with the idea of using Periscope to promote their business, with Periscope and Meerkat taking over the live video streaming industry and allowing users to continuously broadcast the events that take place in their lives, we were not at all surprised to see the idea being used as a marketing method. Turkish Airlines however have taken a simple idea and created a truly unique campaign. By acknowledging the idea that people are interested in finding out what happens behind the scenes of a flight, they were able to come up with the idea of creating the first ever live broadcast of a flight. The flight was traveling from Istanbul to New York.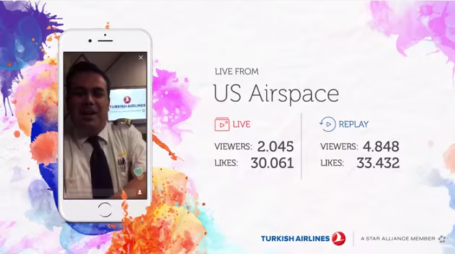 The stream allowed you to get a feel of what it would be like being on board a Turkish Airlines flight and it allowed you to see behind the scenes footage of the flight. Periscope allowed viewers to see the crew cabins, flight lounges, pre-flight checks, inflight service and so much more.
So if you are trying to increase engagement by promoting your brand through Periscope or Meerkat then this video will definitely help teach you a thing or two before you get started.
In the end the campaign saw 292 779 total likes and 5118 new followers.