The Emoji Only URL That Aimed To Reach Millennials
Norwegian Airlines decided to create a whole new type of buzz when it went forward to launch its new flight from Oslo to Las Vegas. The airline decided to use only emojis in the websites URL, the emojis aimed to explain to customers that they could fly to Las Vegas on the cheap. Popular instagramers were then enlisted to spread the word to millennials. The challenge was then for users to figure out how to type the emoji URL in their browser. The campaign, which was aimed at the engaging with young people online, saw 1600 people manage to figure out the string of text needed in order to come up with the emoji URL during its one day social media promotion.
Tina Fristrup the company's senior marketing project manager then went on to tell Adweek that "We know that young people aged 18 to 34 are incredibly complex to market to, therefore we decided to take advantage of the target audience's way of using emojis as well as the linear feed on Instagram to hype the destination. This part of the overall campaign … [will] capture the target audience's curiosity, and communicate the message in an innovative and humorous way."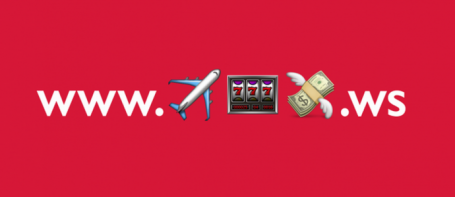 Emojis seem to be taking the world by storm and are driving our way of communicating in a whole new way. They have quickly become the world's fastest growing language and can be seen in magazine reviews and Instagram hashtags. Instagram have recently done a survey on the usage of emojis and have reported that at least 40% of posts contain at least one emoji. The graph below shows how the use of emojis on Instagram has increased over time.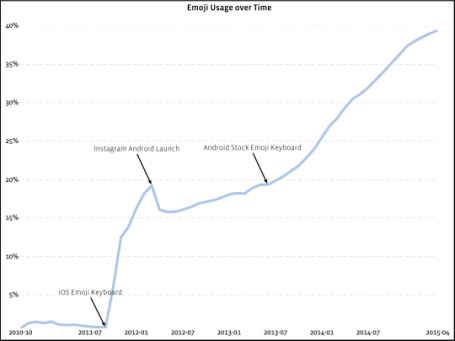 Norwegian Airlines was not the first company to use emojis in its URL, as Coca-Cola Puerto Rico and Irish group Yes Equality tackled this a few months back. But unfortunately we are unlikely to see emoji URLs become the next big thing any time soon as there are only a handful of top-level domains that accept emojis. Currently Western Samoa (.ws) and Tokelau (.tk) are some of the few. Although the campaign was seen by the company as a success, the question is can we expect to see more companies jumping onto this bandwagon in order to engage with a younger audience. If this is the case they better act fast as there are only a limited amount of emojis and URLs available.