The 2 Euro T-Shirt That Nobody Wanted To Buy
Fashion Revolution, a non profit organization, recently came up with a campaign that aimed to encourage buyers to reconsider how and where they buy their clothes from. This is not an easy task as many of us simply can't resist the opportunity to buy our clothing at a bargain price. This is where the 2 Euro (R27.90) T-Shirt vending machine came into play. The vending machine was set up in Berlin and it offered passers-by the opportunity to buy a T-shirt at only 2 Euros, but there was a twist in order to receive the t-shirt they first had to watch a video that depicted how the shirt was made. Sounds easy enough right?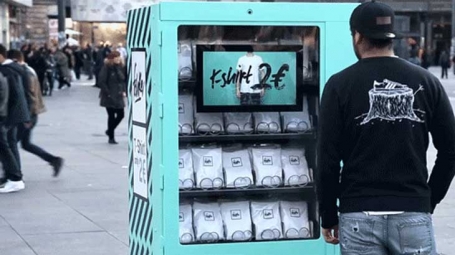 The video depicted the exploitation of the workers in the sweatshops and the conditions and hours that those workers had to suffer through on a day to day basis. This social experiment allowed people to be directly confronted with the reality of how their cheap clothing was made. Each person was then presented with a choice, to either confirm their purchase or donate the money. Watch the video here to see how being put face to face with workers conditions affected everyone's decisions and showed us how little people actually know about how their clothing was made.
Would you continue with the sale or would you donate the money?
Founder of Fashion revolution, Carry Somers Told Marie Claire that "We're not asking people to boycott their favorite stores, we need to change the fashion industry from within by asking the brands and retailers where we like to shop 'Who made my clothes?'"
The video which was released on the 24th of April aimed to commemorate the collapse of the Rana Plaza factory in Bangladesh where 1133 people were killed and over 2500 were injured. The Fashion Revolution are asking everyone to show support by taking a selfie with their clothing label and then tagging the brand and asking them #whomademyclothes ?