Digital Dog Follows Shoppers In A Mall To Encourage Pet Adoption
People all over the world choose to buy or breed an animal over adopting a rescue, which is why Battersea Dogs and Cats Home together with OgilvyOne UK, have decided to launch the #LookingForYou campaign which aims to encourage people to adopt a rescue animal. The campaign plays on people's love for dogs (man's best friend) by creating a digital dog that follows shoppers around the mall. It is hoped that by using peoples emotional experience with the campaign, that they will create more awareness about homeless and rescue dogs and how important it is that they find a new loving, caring home.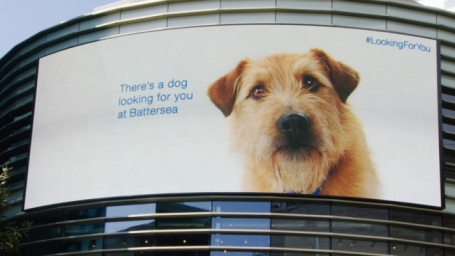 Barley, the digital dog and former Battersea resident, is able to follow shoppers around, because when shoppers first entered the mall they were handed a leaflet. Inside the leaflet there was a microchip that allows Barley to track them and appear as they pass by billboards in the mall. Many of the shoppers showed a fascination with Barley and even stopped to look or play with the dogs that were up for adoption. Head of operations at Battersea Dogs and Cats Home, Carly Whyborn, says: "We're very excited about the #LookingForYou campaign – as a nation of dog lovers we're hoping it strikes a chord with people.
This is an extremely clever use of technology to play on human emotions, that brings people face to face with a cute animal that is hard to ignore, thus promoting dog adoption in the best possible way. The joint chief creative officers, Emma de La Fosse and Charlie Wilson, at OgilvyOne UK said: "We all know that homeless dogs follow you around. So we are using technology to create a truly engaging experience at Westfield to help Battersea rehome even more dogs in 2015."