Oreo Uses The Solar Eclipse For Their Latest Marketing Campaign
Though this years Solar Eclipse did not affect us, it really seemed to have a large impact on the digital world, not only were tons of memes created but brands such as Oreo, Pepsi and Playstation UK also took the opportunity to capitalize on this iconic event.
Oreo UK went all out and created an outdoor campaign called #oreoeclipse, which used a number of different media to bring the campaign to life. They used  data from the Royal Astronomical Society to track the movements of the sun and moon, this data was then mirrored in real-time via different outdoor mediums to create an Oreo Eclipse. One of the outdoor campaigns was the billboard that showed the movement of the sun and the moon by using Oreo cookies. The campaign also relied heavily on campaign promoted tweets via Twitter.
You can enjoy an #oreoeclipse more than once https://t.co/aAEjooSqU6

— Oreo Cookie (@Oreo) March 20, 2015
So excited for our stunt on Friday. I've had a rather busy week! "@Oreo: The countdown has begun… #oreoeclipse pic.twitter.com/ZZce5UHBDt"

— Benjamin Brassett (@bbrassett) March 20, 2015
By far the best and most unique part of the campaign, was Oreo's collaboration with The Sun newspaper  (we wonder if the pun was intended) which bough about the creation of the first ever translucent newspaper cover. In order to achieve the effect that was desired,  the wrap was printed in black. The cover which was created by Oreo's global advertising agency FCB Inferno and content agency Drum, was distributed across 50000 retailers and was placed in more than 2 million copies.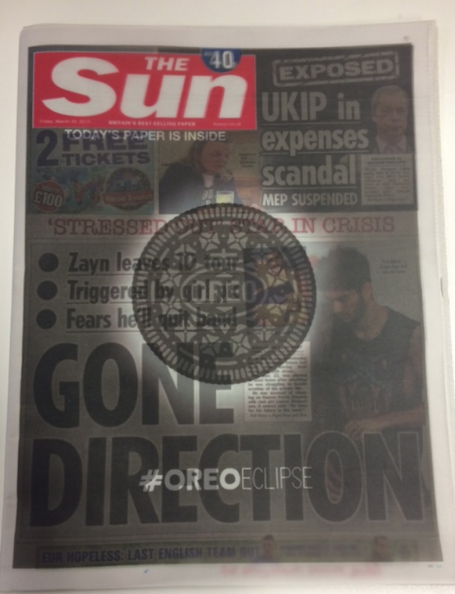 Jonathan Holden, marketing manager, Oreo said :  "We want Oreo to be an even more iconic brand in the UK. Playfully putting it at the centre of a moment where the whole country will be looking in the same direction makes this idea the perfect fit with that ambition."
Is this clever marketing or what? We are really loving this whole  "Reactvertising" thing that all the big brands seem to be doing now a days, and we can't wait to see companies taking the idea further and further.