Google AdWords: Quality Score
Anyone who has ever come in contact with Google AdWords will more have likely heard of quality score. We find that quality score is one of those metrics that people don't quite understand and that's what we'd like to pick at today.
Google defines quality score as, ".. an estimate of the quality of your ads and landing pages triggered by that keyword.". Google goes on to say, "Having a high quality score means that our system think your ad and landing page are relevant and useful to someone looking at your ad".
In other words – the more related your ad is to your landing page, the better. But one step further.. the more relevant your keyword that triggers your ad to your landing page. See, the whole thing is rather simple: When someone performs a search on Google and they click an advert, they need to arrive at something relevant. In other words, their experience has been good and this is Google's whole concept. So if you want a successful campaign, you need to ensure that your keywords, ads and landing pages are relevant and as tightly knit as possible to ensure that you give the user a good experience.
But what does a higher quality score really mean? Larry Kim of WordStream has created a great little table to stress the relevance: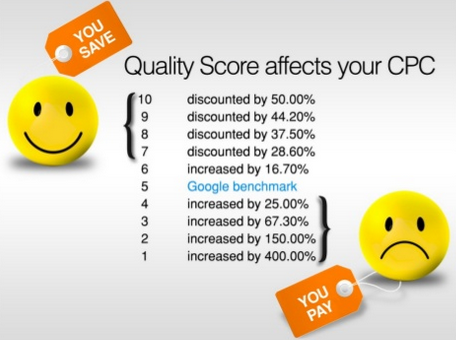 CPC stands for "Cost Per Click", the cost you pay each time someone clicks on your ad. That drives the point across doesn't it?
So if you're sticking to tightly knit and relevant keyword, ad, landing page combinations you're going to experience higher quality scores and are going to pay less per click. Less spend on each click means cheaper acquisitions which is the holy grail of AdWords (and marketing!).
We're purposefully not going to go into too much detail around this and the premise is clear and it's a good point of start. However, for those of you who do spend more time on AdWords and understand the basics then this Slideshare by Larry will be hugely beneficial: