WWF Challenges You To Race Against A Tiger
The World Wide Fund For Nature (WWF) has teamed up with creative agency Hungry Boys, to create a campaign which challenges you to Race A Tiger. The campaign aims to help raise awareness about the decline in the tiger population over the last few years. Currently there are only 450 Amur Tigers left in Russia, the cause of the decline in tigers is due to the rise in poaching and farming. The challenge is to run further than the Amur Tiger which on average runs 20 km a day. If you lose the race, you need to donate $5 to the WWF save a Tiger campaign – Run4Tiger.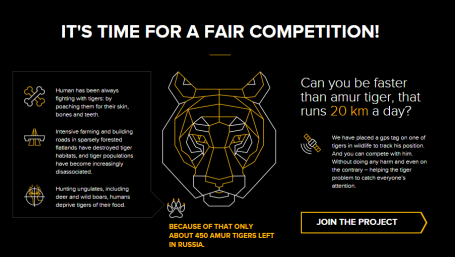 Vlad Sitnikov, creative director, Hungry Boys, said "This is the first time in the world you can compete fairly with a truly professional runner, the Amur tiger, and benchmark yourself against the best. But, if you lose, you need to donate $5 to the WWF save the tiger campaign. Sound like fun? We think so."
Yury Sochnev, Head of Marketing at WWF Russia, the went on to add "The decline in the wild tiger population is a global issue. This is a positive and creative way to raise awareness of their plight. … You get to race against this magnificent animal whilst simultaneously generating money to help protect it"

A GPS was placed on one of the tigers in order to accurately track his position. In order to participate in the challenge you will need to install one of the following devices: Nike+, Mapmyrun, Runkeeper, Strava, Endomondo, Myfitnesspal, Jawbone, Fitbit or Adidas Mycoach. Contestants can then view their performance against the tiger or the other contestants by visiting #Run4Tiger on Twitter. It is truly great to see an add that not only encourages you to be fit but also allows you to participate in a fantastic cause.