Embedding a poll in your tweets
If you've ever tried to run a poll before through Twitter you'll know that the standard process involves sending a link out to your followers and then having them click away from Twitter through to the website with the poll. Of course, a lot of people don't want to click on external links so your sample size is usually quite small.
You'll be pleased to know that there is a way of running a poll within Twitter, allowing your followers to participate without having to leave Twitter. This is all thanks to Google Forms.
You'll need to create your poll with Google Forms and then simply include the link in your tweet and automagically the poll will be visible in your tweet – no longer will your followers have to leave Twitter. Here's an example of what the tweet looks like: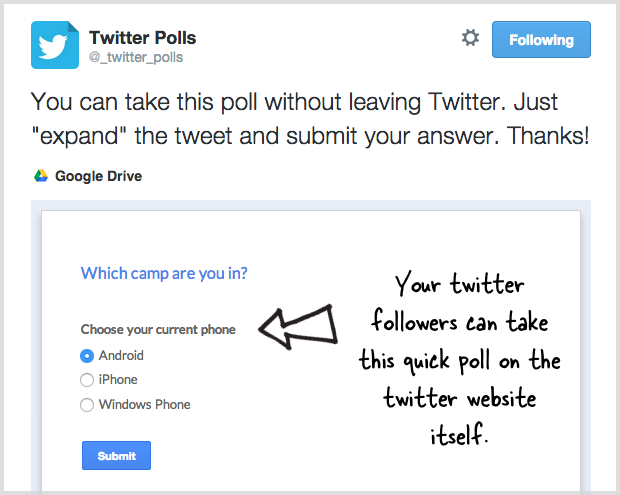 Some hints:
Keep the poll as short as possible so it doesn't get chopped off.
Use a theme that has small fonts for your poll in Google Forms.
Leave the description text blank in Google Forms to save space.
A lot of reports state that this doesn't work properly on mobile devices, I guess we can't win them all, but this is still an incredibly useful tactic to employ.
Hat tip to Amit Agarwal for inspiring this blog post.