Meme Monday: Some Of The Best #MugabeFalls Meme
On Wednesday 90 year old President Robert Mugabe fell down a staircase after addressing supporters at Harare international airport. Mugabe was quickly helped by his aids to his waiting car. The 90 year old President then attempted to eradicate all evidence of his fall by asking the photographers to delete the photos, but by then the damage had been done and #MugabeFall  became an internet sensation, with thousands of memes having been created.
The  Zimbabwe government has tried to downplay the incident, insisting that Mugabe managed to break his fall and blaming the slip-up on a hump in the carpet. Mr Moyo, the Information Minister, stated "What happened is that the President tripped over a hump on the carpet on one of the steps of the dais as he was stepping down from the platform.
"He remarkably managed to break the fall. I repeat, the President managed to break the fall."
and he later added: "To be honest with you, even Jesus, let alone you, would have also tripped in that kind of situation."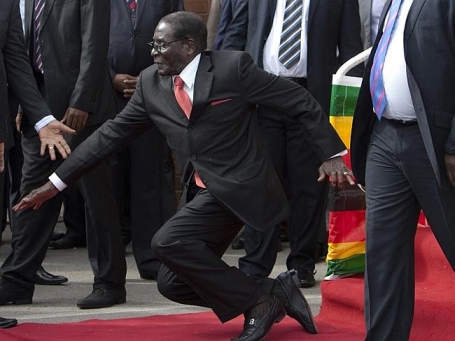 These are some of our favourite #Mugabefalls memes