Land Rover Tells Us A Story With Their New Interactive Campaign
Land Rover US have enlisted the help of screen writer William Boyd for their newest interactive campaign, The Vanishing Game. The Vanishing Game  is an interactive version of a 17 000 word story that was written by William Boyd. The mysterious adventure story is set in the UK and follows the journey of Alec Dunbar, a struggling C-list actor, who accepts an offer to do a trivial delivery to Scotland for a hefty sum of money. In order to complete the delivery Dunbar is then given a rugged Land Rover Defender, the unsuspecting actor then finds himself on an intriguing journey where he meets strange characters and has to travel through some rather rocky terrain.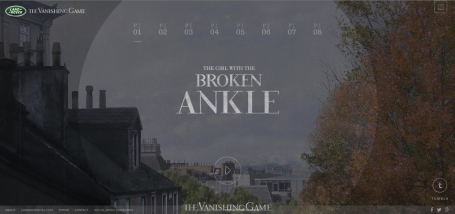 Dunbars' journey is brought to life through an interactive Tumblr page that features interactive backgrounds, eerie animations, clickable action words, mysterious music as well as an intoned narration of the story. The whole experience is rather breathtaking and captivating, you feel as if you have been transported into this suspenseful story and you cant help but want to find out what happens in the end. The Vanishing Game also includes a social aspect that encourages real Land Rover drivers to share their real adventure stories that took place with the help of a Land Rover, by using the hashtag#wellstoried. The stories have also been integrated onto a website that allows you to see peoples stories from all over the world.

Personally I feel that sometimes the branding can feel a bit overboard and forced into the story by the advertising agency, but Boyd told ABC News, "They (Land Rover) said they wanted an adventure and they said, 'Somewhere in this adventure it would be good if a Land Rover appeared.' ".
Land Rover and Y&R New York, the advertising company who conceived the idea, have also created a short video to entice customers to view the Tumblr site but in my opinion it doesn't do the site justice.