Facebook Pages: Call-to-Action buttons!
One of the gripes that people have had with Facebook Pages for Businesses is that you're not allowed to include phone numbers, website addresses and the likes in the cover photograph – at least, this was the case in the Terms of Service for a long time and we believe it hasn't changed. This meant that businesses could have a page, but there wasn't a specific way of getting a visitor to the page to perform an action.. that was until now.
A few days ago Facebook announced Call to Action buttons that Facebook Page Admins can now add to their pages to trigger an action from a person arriving at the page. Here is an example: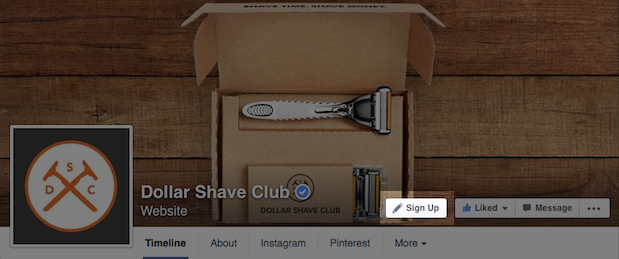 This has been a long time coming in our opinion and it's exciting to see Facebook introducing such features. As a start Facebook are allowing for 7 different Call to Actions: Book Now, Contact Us, Use App, Play Game, Shop Now, Sign Up and Watch Video.
In the image above you'll see that Dollar Shave Club have been using the "Sign Up" Call to Action button and they've announced the following:
"Over the course of a three-week test, the Sign Up call-to-action button delivered a 2.5x higher conversion rate versus other comparable social placements aimed to drive new user acquisition."
This was to be expected, and it will increase as Facebook users become familiar with the Call to Actions. Unfortunately they're only rolling out the new feature in the US at the moment, the rest of the world will have to wait until next year for it.