Trending Tuesday: Mixed Bag Of Results
Did you know that the first tweet was sent by Jack Dorsey, the creator of Twitter on the 21 March 2006. It took over 3 years for the platform to reach a billion tweets whereas today, it takes less than two days for one billion tweets to be sent.
inviting coworkers

— Jack (@jack) March 21, 2006
Tweets Per Day Up To 2013
In Twitter's short history, we went from 5,000 tweets per day in 2007 to 500,000,000 tweets per day in 2013.

Top Twitter Trends
Top Google Trends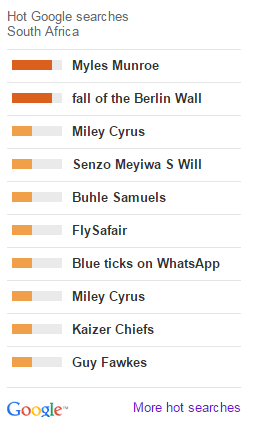 We would like to say RIP to pastor Myles Munroe and his wife, as well as all the other people who died in the plane crash on Sunday.