Trending Tuesday: And the Oscar Goes To…
With Oscar Pistorius' sentencing set to carry on today, it really is no surprise to see that he is trending on the internet. The athlete, who was found guilty of the culpable homicide of Reeva Steenkamp last month, could serve up to 15 years in jail. If you haven't been following, on Monday a correctional service officer recommended that Oscar should be sentenced to house arrest and community service instead of going to prison.
Twitter Trends
Google Trends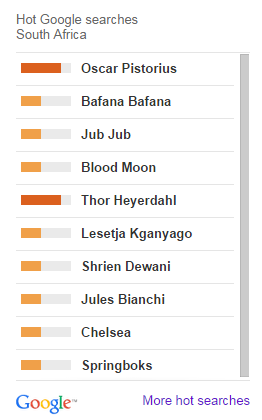 Interestingly enough crime statistics released by the SAPS reveal that the amount of murders committed in South Africa for 2013 to 2014 has gone up by 5% since the previous year.