Trending Tuesday: The world looks on as Oscar receives his verdict
With the recent announcement of the Oscar Pistorius verdict it really is no surprise to see his name popping up in what is currently trending on Google, it is however rather shocking to see that he isn't trending on Twitter. This could be because Twitter looks at things daily whereas Google looks at things weekly, but it does still show you how quickly people on Twitter move forward and onto the next big thing.
Top Twitter Trends SA
Top Google Trends SA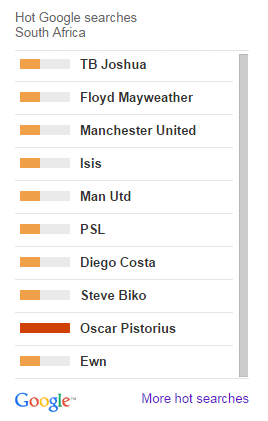 All in all there seems to be an inconsistency with what is trending on Twitter to what is trending on Google. Which has left us with a mash up of results and no dominant topic or person taking over conversation.
This week we are giving you the top Instagram HashTags to spice things up a bit. What do you think?
Top HashTags on Instagram