Trending Tuesday: iPhone 6 to be announced today
The day of the iPhone 6 announcement is finally here and I know many of you have been waiting in anticipation. The announcement is set to take place at 19:00 p.m CAT and 10:00 a.m PDT.  Many rumors have suggested that we should expect two new iPhones to be announced, the first is the smaller 4.7 inch device and the second will be the larger 5.5 inch device. Along with the announcement of the iPhone 6, Apple are also rumored to be giving the world its first sneak peek at its wearable device which we are told to expect in two sizes.
If you would like to watch the live event unfold click here.
Top Twitter Trends
Top Google Trends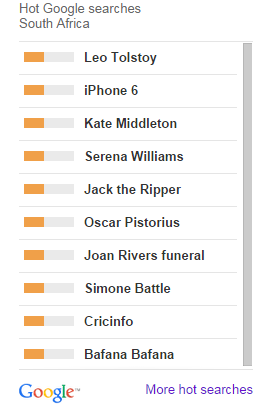 We would like to congratulate Marin Cilic & Serena Williams on winning the U.S. Open yesterday.