Leaked celebrity photos causes mayhem on internet
On Sunday mayhem took place on the internet when various celebrities had their iCloud accounts hacked and their personal photos leaked on the internet. Theses celebrities include the likes of Jennifer Lawrence(Hunger Games star), Kate Upton, Rihanna and a 100 or so more.  The photos expose the celebrities in various states of undress. Marry E. Winstead("Scott Pilgrim vs. the World" actress) was one of the first to voice her opinion about the leaked photos and took to Twitter to show her anger.
Knowing those photos were deleted long ago, I can only imagine the creepy effort that went into this. Feeling for everyone who got hacked.

— Mary E. Winstead (@M_E_Winstead) August 31, 2014
To those of you looking at photos I took with my husband years ago in the privacy of our home, hope you feel great about yourselves.

— Mary E. Winstead (@M_E_Winstead) August 31, 2014
Apple are looking into the fact that a flaw in the 'Find My Phone' function may have helped the hacker.  Apple spokesperson Nat Kerris told MailOnline 'We take user privacy very seriously and are actively investigating this report'. Kirsten Dunst(Spiderman star) became the first star to publicly criticize Apple yesterday.
Thank you iCloud

— Kirsten Dunst (@kirstendunst) September 1, 2014
Top Twitter Trends
Top Google Trends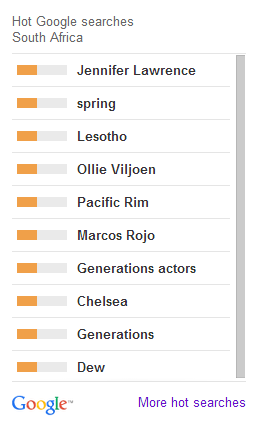 It really is no surprise to see that Jennifer Lawrence is one of the top Google trends with the fact that leaked photos of her have surfaced.  We are however surprised to see that she isn't trending on Twitter. It just goes to prove how quickly topics and trends change on Twitter…