Thunder Thursday: Wearable Technology Reveals Emotional Data
Saatchi & Saatchi make the audience their experiment at this years NDS (New Directors Showcase) in London. For those of you who don't know the NDS takes place at the Cannes Lions Festival of Creativity, it is a showcase of some of the most exciting and upcoming new directorial talent. The NDS allows for many new directors to make their name on a world stage.
This year Saatchi & Saatchi decided to give their audience a world first experience and allowed their audience to 'Feel the Real'. In order to provide their audience with a unique experience, Saatchi & Saatchi handed out over 2000 wristbands to their spectators. These wristbands then captured each audience members emotional response as the show went on. The showcase featured a variety of stimulating and diverse short video clips from Tatia Pilieva -First Kiss to Alvise Avati – Beans in order to ascertain the different levels of emotional experience from the audience as the show went on.
The data that was collected from the wristbands and was then visualized and projected onto two screens that were placed on either side of the main screen. The wristbands also incorporated a LED light that would change colour as an audience members emotional state changed. The wristband went from blue to green to orange and then to red & magenta, with magenta being the highest state of arousal.
]
The data reveled that :
98% of users were stimulated by the work they saw on the NDS reel.
83% of users experienced relatively high levels of arousal.
65% of users were highly aroused at some point.
Wristband colour ratio:
Percentage of time in Green 21.62
Percentage in Orange 5.439
Percentage in Red 2.219
Percentage in Magenta 0.947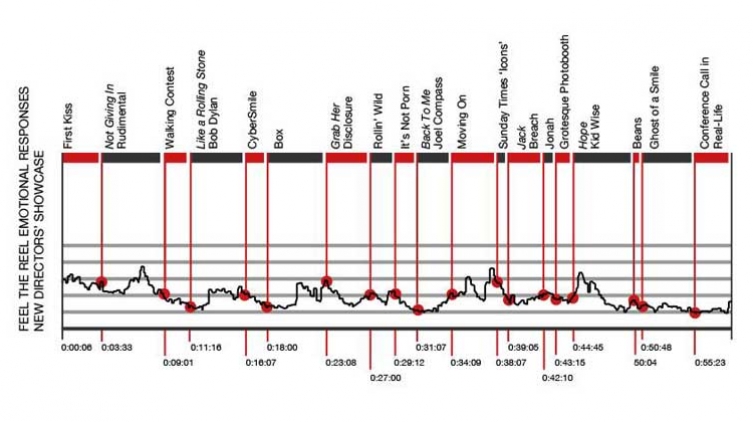 It is interesting to note that 85% of the audience were aroused at the same time and that Tatia Pilieva's 'First Kiss' consistently maintained a medium to high arousal level, which was shared by most of the audience.
The 'Feel the Real' experience just proves how possible it is to capture people's emotional reactions and then to store that reaction as data.