Trending Tuesday: The Ice Bucket Challenge
The ALSA Ice Bucket Challenge
The ALS Ice bucket challenge is the latest trend that is going around the internet at the moment. The challenge requires you to either dump a bucket of ice on your head or to donate $100 to the Amyotrophic Lateral Sclerosis Association in the United States. As of Monday the Ice Bucket Challenge has helped raise the ALSA $13 million. The challenge went viral thanks to Pete Frates, former Boston College baseball player, who nominated his fellow Boston athletes to take part. Pete Frates was seen as the next Red Sox star until his career was unfortunately cut short by the disease. Pete's story is truly inspiring, it is a story of courage and optimism that will long be remembered. This widely popular challenge has sparked the attention of many celebrities including Justin Timberlake, Mark Zuckerburg, Martha Stewart, Bill Gates, Robert Downey Jr. and ofcourse Chris Prat, who decides to add his own spin on the #IceBucketChallenge.
It is fantastic to see people using social media to do some good.
A collection of the best Ice Bucket challenges
Top 5 Twitter trends
Top Google Trends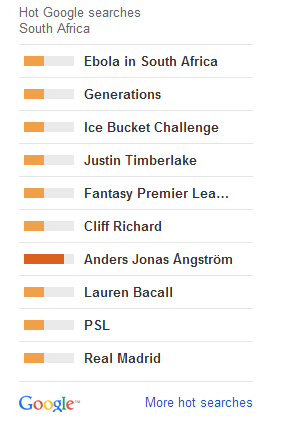 Although the Ice Bucket Challenge isn't quite trending in South Africa yet I am sure sooner or later this viral trend will hit us and when it does we are going to have a lot of cold and wet people.