Trending Tuesday:The 'Vine Star' that hit No.1 on iTunes
This week on Trending Tuesday we are going to sway slightly away from the usual Google and Twitter Trends and bring you something a little bit different. We are going to talk about Shawn Mendes and I know most of you are thinking to yourself  "who's he?" or "should I know who that is? " and the answer to both of those questions is no. Up until recently Shawn Mendes was only known by the 26000 dedicated people following him on Vine. Shawn, who is a 15 year old Canadian, managed to reach the top of iTunes in an astonishing 37 minutes all by encouraging his loyal followers on Vine to tweet #ShawnToNumber1.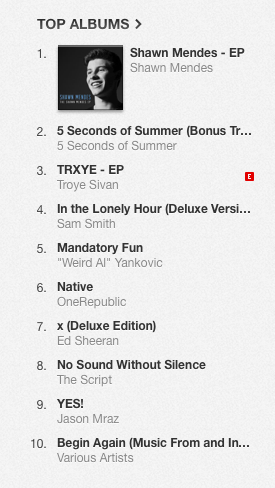 Shawn first became popular on Vine when he posted a 6 second clip of him singing 'As Long As You Love Me'  by Justin Bieber. Mendes told Mashable this month in New York City."When I woke up and I had 10,000 likes on that video, I was like, 'What is going on?' Social media is taking off. It's an entire new world out there". Over night the record has gotten 1943 five star ratings on iTunes and his first single, "Life of the Party," debuted at No. 24 on the Billboard's Hot 100 chart.
Shawn is now on tour with Austin Mahone, The Vamps and Fifth Harmony before he returns to New York City in August to appear on the Today Show on Aug. 21. This article really demonstrates the power of social media and how it really can alter your life.