Trending Tuesday: Yo It's The World Cup
Tuesday means another dose of the latest haps in the digital world, and it all seems to be around the World Cup and the most popular sport out there.
Top Trending #Hashtags On Twitter
Twitter also has the handy functionality of tracking World Cup matches for you.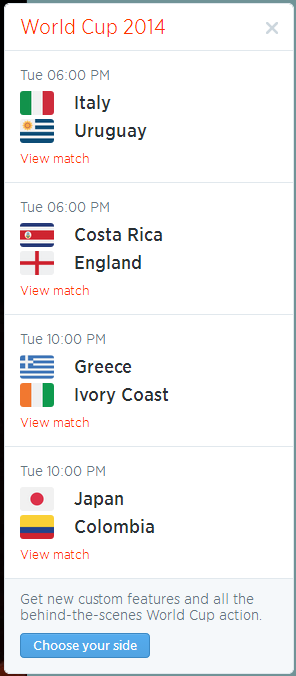 While we are talking about the World Cup, here is a fantastic piece from Think With Google around the statistics online compared with when we hosted the World Cup just four years ago.
Google Hot Searches
Obviously the news yesterday that the Foo Fighters are set to grace South Africa in December of this year got loads of interest across social media with many fans unable to control their bladders at the news being unveiled.
Random Bits
It seems that Yo, the latest in weird phone apps is taking the world by storm. We don't really understand it, but hey, if it has 1 million users already, it must be…something?
We also found this awesome list of the top 30 most viral stories of 2014 so far on Business Insider.