Trending Tuesday: Moyes Out
Every Tuesday we dive into what South Africa is talking about on Twitter and what is trending. This Tuesday is dominated by the major football news that David Moyes was sacked by Manchester United this morning. It seems everything else was playing second fiddle to the mess coming out of Old Trafford.
South African Trending Topics
Cape Town Trending Topics
Just to prove how dominering the news was it was dominating every region of the country.
Google Trends
We also wanted to have a look at Google Trends to see what's currently trending in South Africa specifically: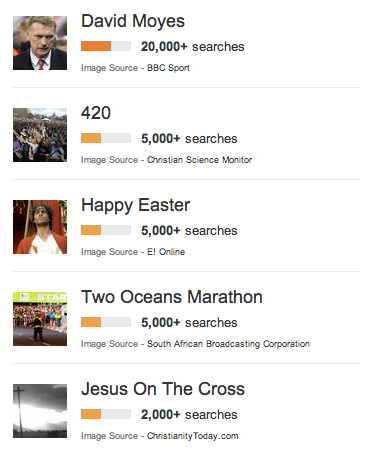 Hot tip: Google have just announced that you can now subscribe to hot trends! Not only can you subscribe to hot trends, but you can actually subscribe to any topic of interest and receive updates on the search interest of said topic – what a great tool/strategy for content marketers!
Faster Growing Google+ Profiles

Stay tuned for next week's Trending Tuesday!