The State of Social Media in South Africa 2013
Every year we receive some incredible insight into the habits of South Africans on the Internet from Arthur Goldstuck's company, World Wide Worx and Mike Wronski's company, Fuseware. It's come to that time of the year again and some incredible statistics have been shared.
For those of you who missed the hashtag today, you might want to catch up on #SocialSA. There are a heck of a lot of excellent tweets flying around from the event.
I'm going to cut through everything and present you with the facts in an easy to consume manner:
Facebook: 9.4 million active users of which 87% are accessing Facebook on the go via their mobile devices.
MXit: 7.4 million monthly active users of which 84% of the users are based in South Africa and a massive 400 million messages are being sent daily.
Twitter: 5.5 million active users which is up from 2.4 million in 2012! Interesting, brands are said to take an average of 4.5 hours to respond to a tweet.
LinkedIn: 2.7 million registered users of which 34% are people aged between 25 and 34.
Instagram: 680,000 active users which in comparison to less than 100,000 in 2012 shows strong growth.
Google+: 466,828 active users which isn't much more than 2012. Google+ is under appreciated in South Africa buy offers great benefits.
It's important to remember that the number of users is not enough to make a decision around where to spend your time if you're looking to use social media for business. Engagement levels, target audience research and various other aspects should be considered – quality over quantity is most certainly the way to look at social media.
A big thanks to Dave Duarte for creating this visual representation of the numbers: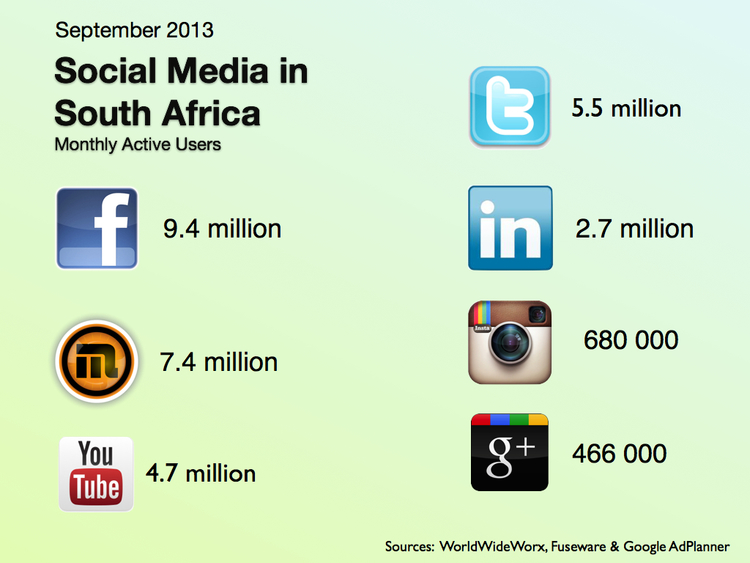 An official document should be released fairly soon and we will update this post when it is.