Mozcation Cape Town
SEO is a relatively new term in South Africa. Who would have thought that 400 SEO enthusiasts would gather together to celebrate it? But it happened! On Thursday 24th of January, 2013, the world's largest SEO software development agency, SEOmoz, came down to Cape Town to join 400 local SEOs to share thoughts, inspire each other and spread the word of SEO to South Africa. Every year SEOmoz holds Mozcations (SEOmoz Vacations) where their staff (mozzers) travels to amazing destinations across the globe. The events consist of talks, product unveilings, questions and answers, great food, drinks and lots of networking.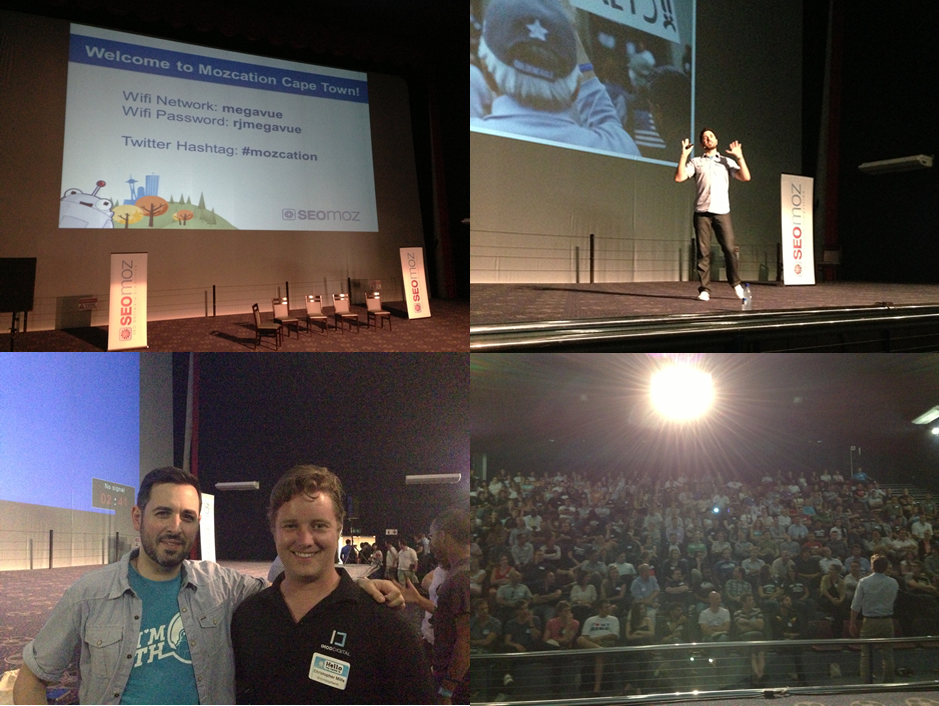 The event consisted of 5 parts:
Meet and Greet
Experts Panel (Christopher Mills, Christine Da Silva, Allen Jaffe, Rafiq Phillips and Shaune Jordaan)
A talk by Erica McGillivray and Matthew Peters (mozzers)
A talk by Rand Fishkin (the mozzer)
Networking
The event took place at Ratanga Junction and started at 17h00 with a simple meet and greet which would allowed local SEOs to get some swagg, have a drink, chat to each other and meet some of the mozzers. A particularly funny moment I recall was when some of the mozzers mentioned that they were explicitly told to keep their car windows closed around baboons, but they all happened to be on mountain bikes! Maybe you had to be there to find that funny? But try imagine a group of mozzers from the US standing there with their bikes being encircled by a troop of baboons.
The talks started at 18h00 and first up to the stage was the panel of experts. Sitting in was our Director, Christopher Mills. Some of the topics discussed by the panel of experts were:
What is the state of SEO in South Africa?
What are SEO trends like in South Africa in comparison to International?
Are South African agencies embracing SEO?
What shortfalls can be identified in the South African market when it comes to SEO?
We're slightly biased because Christopher was on the panel, but feel that the panel did a stellar job, addressed the questions accurately and some folks even tweeted saying that the panel should have gone on for longer than 30 minutes. After the experts panel Erica McGillivray and Matthew Peters got uber geeky and unveiled a new product by SEOmoz, "Fresh Web Explorer". The SEOmoz team will publish more information on Fresh Web Explorer in the near future, but the concept revolves around aggregating RSS feeds from around the Internet, combining the information with domain and page authority and ultimately creating a great way to track down and discover excellent content, which in turn opens doors for people looking for content marketing opportunities. Matthew explained it really well, as he developed the actual algorithm himself, so if you're interested, then watch the video at the end.
The next talk was by Rand Fishkin, Co-Founder and CEO of SEOmoz. Rand's talk was about behavioural psychology and the concept of nudge marketing. We loved watching Rand, he's incredibly charismatic and his slides were a joy. If you're interested, here are Rand's slides.
(Our sister company interviewed Rand and we'll be publishing that on the Serperture Blog soon, so stay tuned!)
Resources:
And to end things off, here's a photograph that was taken at the event: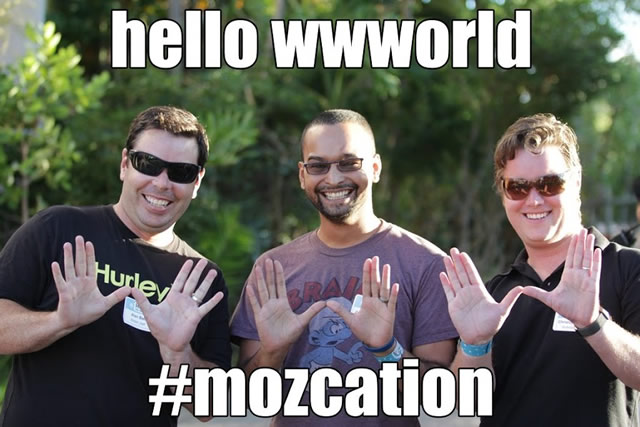 Alan Ball (Product Manager at Tourism Radio), Rafiq Phillips (Founder of iDRIVE.co.za) and Christopher Mills (Director of iMod Digital) at Mozcation 2013.
A huge thanks to SEOmoz for an amazing event and experience!