Service Keywords: Design, Development, Strategy
July 2012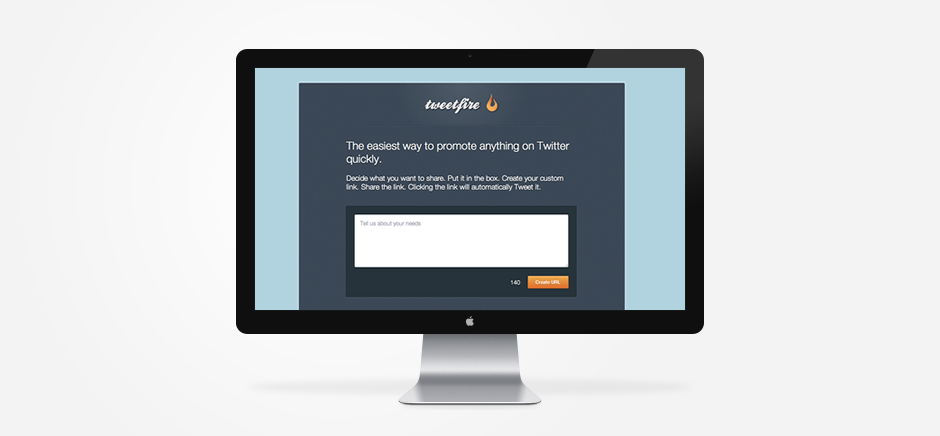 About
tweetfire
tweetfire.me is a really simple web application we launched with a simple purpose: creating a clickable link that sends a predefined tweet.
In other words, you can create a 140 character tweet, click a button and be presented with a link. Anyone who clicks on the link will tweet the 140 character tweet that was created.
Want to give it a try? Click here to tell people about iMod Digital.
This service is fantastic for bloggers who want to create tweetfire links for facts in their blog posts as well as people trying to get other people to put a specific message out into the Twitterverse.
*These are our private applications that we've designed and built, from the group up.
While we love working with our clients, we also have our own ideas and dreams that occupy our nights and weekends.
Here's a list of our in-house work - all built from the ground up, from the idea and strategy to the design and development.
Social Robot
Built in-house, for ourselves, to help track and monitor social growth.

Social Robot
read more
Our very own Social Robot who monitors your websites' social footprints whenever you need.
Serperture
A web application built to help website owners improve their sites.

Serperture
read more
Connecting all the tools you need for SEO-Report generation & website analysis.
Contact Us
Claremont, Cape Town
South Africa.
Work With Us
Everyone has great ideas for the Internet, but not everyone can execute them. We're here to assist you with the execution, contact us and we'll see what we can do for you.
Read what some of our clients say about us.
Get started with our Project Planner.