Service Keywords: Strategy, Design, Development
July 2012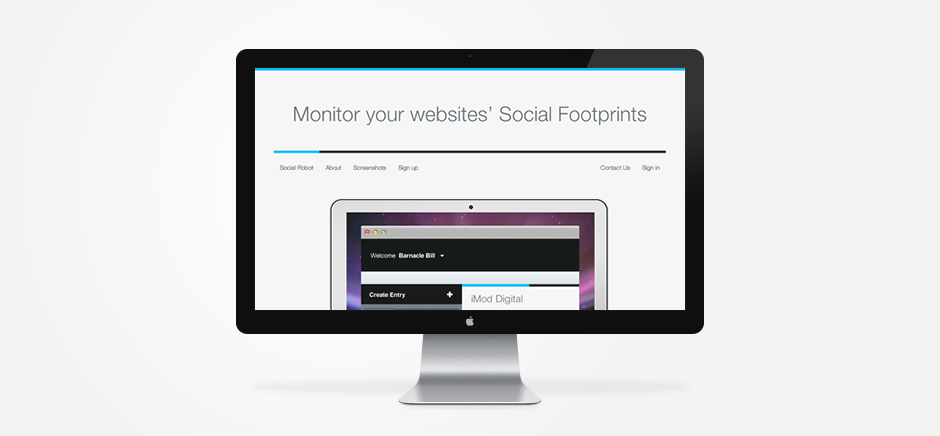 About
Social Robot
With Social Media becoming increasing popular, we identified a need for a web application that monitors a websites social footprint on the Internet without all the bells, whistles and over complications that many web applications present. Social Robot is a free, simple and straight forward application that allows a website owner to input their website address and monitor where their website is being shared on the Internet.
Social Robot was an rapid application development project, which saw the entire application being built from inception to deployment in just a week. The website currently monitors Facebook, Twitter, Digg and LinkedIn shares across the Internet, however, plans to expand are already in place. We also plan on integrating a graphing interface to map your accounts history (progress and regress) as well as data exporting.
If you would like to try Social Robot, please visit www.socialrobot.me.
*These are our private applications that we've designed and built, from the group up.
While we love working with our clients, we also have our own ideas and dreams that occupy our nights and weekends.
Here's a list of our in-house work - all built from the ground up, from the idea and strategy to the design and development.
Serperture
A web application built to help website owners improve their sites.

Serperture
read more
Connecting all the tools you need for SEO-Report generation & website analysis.
tweetfire
A small tool we built to help website owners increase traffic to their site.

tweetfire
read more
The easiest and quickest way to promote absolutely anything you want on Twitter.
Contact Us
Claremont, Cape Town
South Africa.
Work With Us
Everyone has great ideas for the Internet, but not everyone can execute them. We're here to assist you with the execution, contact us and we'll see what we can do for you.
Read what some of our clients say about us.
Get started with our Project Planner.