Service Keywords: Conceptualisation, Design, Development, Strategy
July 2012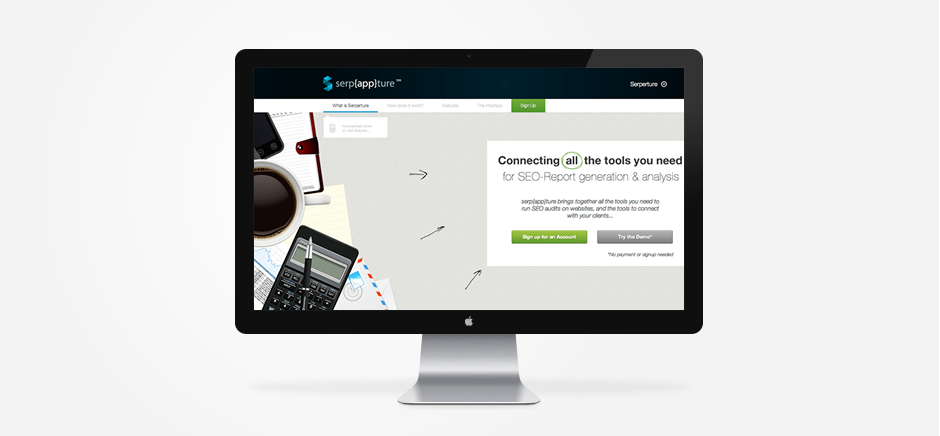 About
Serperture
Serperture is a powerful SEO tool that was created by iMod Digital. After identifying the need for a tool that helped companies to improve their website optimisation, the Serperture concept was born. The talented team at iMod Digital brought the SERP concept into fruition, launching the Beta phase in early 2012.
How Does Serperture Help Your Business?
Improve your website optimisation
Identify potential problem areas that are affecting your results
Ensure that vital SEO elements are in place
View detailed reports on your website's current SEO efforts
Increase your website traffic to ultimately convert more visitors
Who Will Benefit from Serperture?
As a user-friendly SEO tool, you do not need extensive SEO understanding to use Serperture. Any of the following will be able to benefit from this tool:
New SEO technicians
Small businesses
Online marketers
Webmasters
Web developers
SEO professionals
Have a look at Serperture by clicking here.
*These are our private applications that we've designed and built, from the group up.
While we love working with our clients, we also have our own ideas and dreams that occupy our nights and weekends.
Here's a list of our in-house work - all built from the ground up, from the idea and strategy to the design and development.
Social Robot
Built in-house, for ourselves, to help track and monitor social growth.

Social Robot
read more
Our very own Social Robot who monitors your websites' social footprints whenever you need.
tweetfire
A small tool we built to help website owners increase traffic to their site.

tweetfire
read more
The easiest and quickest way to promote absolutely anything you want on Twitter.
Contact Us
Claremont, Cape Town
South Africa.
Work With Us
Everyone has great ideas for the Internet, but not everyone can execute them. We're here to assist you with the execution, contact us and we'll see what we can do for you.
Read what some of our clients say about us.
Get started with our Project Planner.