Service Keywords: Responsive, Mobile, Design, Development
January 2013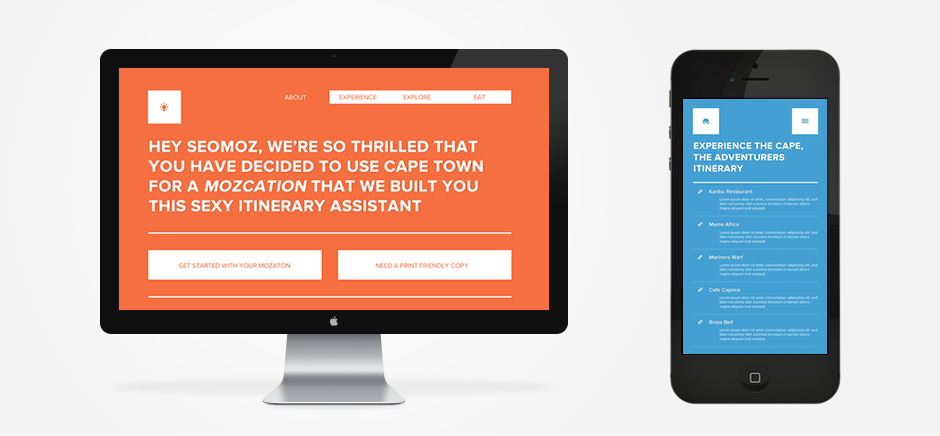 About
Mozcation
SEOmoz is a multi-million dollar SEO software development company based in Seattle that has been in operation for a number of years and is a market leader. In fact, you could say that SEOmoz is the leading SEO software development company in the world. Each year, SEOmoz plans a trip to a city in the world to give a seminar, known as a Mozinar and this year they're coming to Cape Town, specifically, on the 24th of January.
We're huge fans of SEOmoz, we use their software and interact with their team whenever we have the chance, so when it came to building something for them, it was exciting. It seemed fitting to build them a mobile responsive travel itinerary application, so that whilst they're in Cape Town, they'd be able to access it from anywhere and explore our great city.
The website is fully responsive, it works on desktop machines, mobile phones and mobile tablets, give it a try by visiting http://mozcation.imoddigital.com
Here's what the founder, Rand Fishkin had to say, "Wow – thanks Christopher! That's terrific :-)"
Other web design and development projects we've launched.
Sinz
An e-commerce store we built on the WordPress platform using WooCommerce.

Sinz
read more
A premium adult boutique store catering to all your seductive, intimate and naughty desires.
IFIII
Free Fund Comparison Tool

IFIII
read more
Contact Us
Claremont, Cape Town
South Africa.
Work With Us
Everyone has great ideas for the Internet, but not everyone can execute them. We're here to assist you with the execution, contact us and we'll see what we can do for you.
Read what some of our clients say about us.
Get started with our Project Planner.